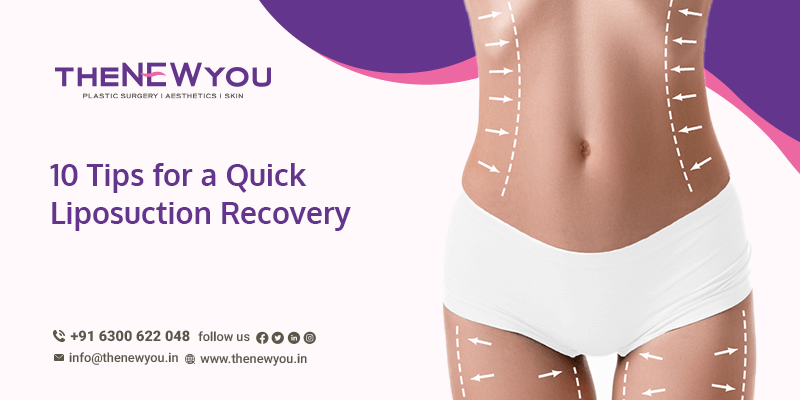 10 Proven Tips for a Quick Liposuction Recovery
Liposuction is the treatment of choice for people who want to remove stubborn fat pockets on their bodies. It is one of the most popular body contouring procedures because it can target specific body areas, like the abdomen, thighs, and waist, for smoother contours. However, as with any surgical surgery, liposuction has a recovery period that all patients must go through. The good news is that the procedure can be made much easier by following these guidelines.
These are the 10 Tips for a Fast Liposuction Recovery
If you've had the procedure and are pleased with your new appearance, you'll be given a quick overview of the treatment's aftercare. However, slight discomfort, bruising, swelling, and mild redness may occur shortly after your liposuction treatment and may last for a few days. Physical exercises and strain on your chest should be avoided. Here are the ten proven and recommended tips to speed up your liposuction recovery.
Eat Healthily
Liposuction recovery will be significantly accelerated if you eat a nutritious diet. Lean proteins, fruits, and vegetables are the best foods to eat, with sugars, salts, and saturated fats kept to a minimum. The fat cells removed during the procedure will not return but failing to eat a healthy diet can form new unwanted fat cells.
Drink Plenty of Water
Any recovery process, including liposuction, requires adequate hydration. The body needs water to function correctly, and due to the nature of the procedure, there will be some fluid loss. Fluid replenishment will aid in the recovery process.
Wear a Compression Garment
The surgeon will provide the patients with a compression garment to wear following the liposuction. Its purpose is to ensure the body is shaped correctly and its blood flow is regulated throughout the recovery process.
Only Wear Light Clothing
Every patient's skin needs to be able to breathe as much as possible after liposuction. Clothes that fit tightly can irritate the skin and reduce the recovery speed. Plus, patients need to be comfortable throughout the process, and loose-fitting, light clothing helps.
Introduce Light Exercises
Rest is essential for the first 24 hours after liposuction surgery. Following that, some light exercises, such as going for a short walk, can help the body heal faster. It's important to remember that you shouldn't do any strenuous exercise for the first few weeks after liposuction. Your surgeon should give you particular instructions about what physical activities are allowed and not.
Try Lymphatic Massage
Lymphatic drainage massage (which focuses on releasing toxins from the lymph nodes) has been shown to reduce recovery time while also reducing patient discomfort and pain. This type of massage should be done once a week, increasing the patient's immunity and reducing the risk of infection.
Get as Much Rest as You Can
After a day or two, patients may feel ready to resume their normal activities, but it's critical to give the body as much rest as possible. This is the ideal time to put any household chores on hold and not feel guilty about them. With enough rest, the body will recover much faster.
Avoiding Soaking While Bathing
Even though the incisions used for liposuction are tiny, they can still get infected. Because of this, it's important to avoid soaking in a bath or a hot tub because any minor infection can adversely affect your surgical results. Your surgeon will provide post-operative instructions to avoid any preventable complications.
Stay in Touch with Your Surgeon
Let your plastic surgeon know if you have any concerns or if there have been any significant changes after surgery. This could be increased swelling, oozing, or bleeding. Your doctor will want to know what's going on and will indeed have a fix for you.
Embrace Yourself
Liposuction is a fantastic procedure that can help shape and sculpt your body by getting rid of those pesky areas that don't respond to diet or exercise. It may take a few months for the swelling to go down, so be patient, follow your doctor's instructions, and soon you'll be enjoying your new, incredible results.
The treatment's long-term outcomes of a smaller, more proportioned physique are generally the same for all patients, regardless of how long it takes to recover fully. We stick with our patients at The New You plastic surgery clinic from the moment they come through the door for an initial consultation to the end of their healing. Patients have a rapid and pain-free recovery with our specialized liposuction in Hyderabad. The New You offers the most affordable Liposuction surgery cost in Hyderabad.
FAQs
What is liposuction surgery?
Liposuction is a surgical procedure that removes extra fat that has accumulated between the muscle and the skin. It entails shattering a portion of the fat cells and sucking them out using different suction techniques.
Is liposuction safe?
Liposuction can be a safe and efficient way to achieve a well-proportioned figure when diet and exercise fail to eliminate the stubborn pockets of fat. You might experience minor liposuction side effects as your body heals after cosmetic surgery.
How painful is liposuction surgery?
You will be under general anesthesia for the procedure, so liposuction isn't particularly painful. However, you may experience significant discomfort after waking up from your surgery.
How much weight can I lose with liposuction?
Liposuction causes most people to lose an average of 5 pounds of fat. But technically, you can lose up to 11 pounds of fat after the surgery. Anything more than that comes with some complications.