Body Contouring Surgery: What You Need to Know
Everyone wants to feel and look good and staying and remaining healthy is simple with proper nutrition and regular exercise. We all know, however, that achieving our fitness goals without the help of others can be challenging. Despite leading a healthy and active lifestyle, some people require additional assistance with trouble areas such as the waist, buttocks, and belly fat. If you decide to get a body contouring procedure, contact The New You clinic. They offer the best body contouring surgery in Hyderabad.
Keep reading to read about all the essential things to know before getting body contouring surgery.
What is Body Contouring? And How Does It Work?
Body contouring is a surgical procedure used to reshape a body part. It may include methods to remove excess skin, remove excess fat, and reshape or contour the area. Body contouring does not usually aid in weight loss. Instead, it reshapes the body and addresses specific areas where weight loss is ineffective or where a good amount of weight loss has resulted in extra skin.
Procedure of body contouring surgery is done under general anesthesia. Occasionally, liposuction is also performed during the surgery to assist in the removal of fat tissue before the skin is removed. The skin is then closed meticulously over drainage tubes. Pressure garments are put on before the patient wakes up from the general anesthesia.
What are the Benefits of Body Contouring?
If you are interested in knowing more about body contouring, here are five benefits of this body shaping procedure:
1. Targets many body parts
Multiple body contouring procedures may be performed simultaneously, depending on the extent of the correction. This is especially beneficial for patients who have lost a significant amount of weight and have excess skin in several areas. For example, a lower body lift alone will remove the skin from the thighs and midsection, making a significant difference.
2. Improves comfort tremendously
Without excess skin, the body appears firmer and feels better. Walking and jumping, for example, have become more accessible and less painful. In addition, specific body contouring procedures result in no chafing or pulling, excess weight or interference, or unsightly jiggling.
3. Stubborn fats are finally corrected
Expensive lotions and wraps can temporarily reduce excess skin, but nothing beats body contouring procedures for long-term results. With an arm lift and a tummy tuck, stubborn areas like beneath the upper arms and the lower abdomen can be perfected. Liposuction can be combined with body contouring to achieve even better results.
4. Safe and trusted procedure
Body contouring procedures have been used for decades, and the techniques are constantly refined. There are risks associated with the procedure, as with any surgery, but choosing an experienced, board-certified plastic surgeon like Dr. Doezie significantly reduces all risks. Doctor will go over all the risks with you during your consultation to help you decide if body contouring procedures are correct for you.
5. Long-lasting results
Body contouring procedures produce permanent results that outperform less invasive options. Body contouring procedures can remove several inches of skin, resulting in more dramatic results.
Are You a Good Candidate?
The ideal candidate for body contouring procedures has reached its target weight and is determined to maintain it. Patients with excess skin in certain areas but little excess fat benefit the most. The ideal candidate also has reasonable expectations for their performance. While surgery can help you look better, each patient heals differently and with different results. Consult your doctor about the expected outcomes.
What is the Recovery Timeline?
The length of recovery depends on what type of surgery is performed. A full recovery can take several months in most cases. In addition, you will be very sore for the first four weeks after the procedure.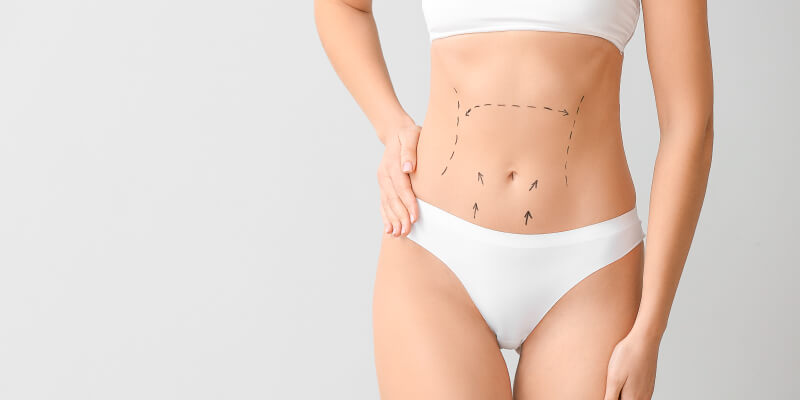 Drains and surgical garments might be required. Follow your discharge instructions carefully to improve the outcome of your surgery.
What are the risks associated with body contouring?
Body contouring risks include wound healing difficulties, scarring, fluid accumulation, asymmetry, and persistent contour deformities, in addition to general surgery risks. Individual results and surgical risks for body contouring procedures vary. Consult your doctor to determine which approach is best for you.
Asymmetry
Bleeding
Changes in sensation
Infections
Post-operative swelling
Reopening of surgical wound
Risks associated with anesthesia.
Scars
Consult The New You Clinic for Body Contouring
When diet and exercise aren't working, body contouring can help eliminate fat and shape areas of the body. Being at your ideal weight improves the quality of your results while reducing complications. Lipolysis is a non-surgical fat removal procedure, whereas liposuction is a surgical fat removal procedure. Skin excision and other body sculpting procedures can tighten and smooth loose or wrinkled skin. Talk to your surgeon about your options and the risks associated with them.
FAQ's:
What is the best body contouring procedure?
The best body contouring procedure for an individual depends on their specific needs, goals, and body type. Common procedures include liposuction, tummy tuck, body lift, and thigh lift. Consult with a qualified plastic surgeon to determine the ideal procedure(s) for you.
Is body contouring painful?
Body contouring procedures can involve pain and discomfort, which can vary depending on the procedure and pain tolerance. Pain management options like medication and compression garments can help manage pain during recovery.
How long do body contouring results last?
The duration of body contouring results varies depending on factors like the procedure performed, lifestyle, and aging. Results are long-lasting if a healthy lifestyle is maintained. Body contouring procedures should be viewed as a complement to a healthy lifestyle, not a substitute.
How much weight do you lose with body contouring?
Body contouring is not a weight loss method. It's meant to improve the appearance of specific areas of the body by removing excess skin and fat and tightening underlying tissues. The amount of weight lost varies depending on the individual, but it's typically modest.