Cosmetic Surgery Vs Plastic Surgery. Know the Difference
Cosmetic surgery vs. plastic surgery is two words often confused with one another. But there are some differences between the two. Each one caters to some specific purpose and yes both of them provide different outcomes. There are several differences but the chief difference between the two is while plastic surgery is basically reconstructive in nature that it sets right various defects and heals injuries. Cosmetic surgery conducted by the best plastic surgeon in Hyderabad India on the other hand helps enhance a person's appearance while improving on several criteria such as enhancing the proportions and symmetry of a particular part of a person's anatomy. Cosmetic surgery cannot improve both function and appearance however in specific cases such as Rhinoplasty, it may do both, improve the function and enhance the aesthetic looks.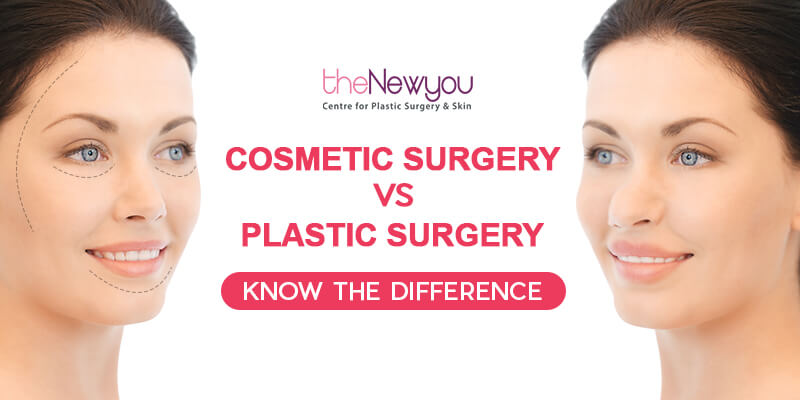 In the cosmetic surgery vs. plastic surgery paradigm, there are some basic differences such as Cosmetic surgery and it can be performed on a number of areas of the body, such as the head, neck, and/or body. Cosmetic surgery is often regarded as an elective and is often dependent on the person's choice. Plastic surgery is not often elective and it is mainly used to reconstruct a person's bodily defects such as trauma, birth defects, specific diseases, and so on. In cosmetic surgery Vs, plastic surgery is the plastic surgeons who often correct dysfunctional anomalies.
Two Main Types of Plastic Surgery
Reconstructive plastic surgery can treat a number of parts of the body as it affects it aesthetically or functionally by a number of health issues such as tumors, infection, congenital defects, and so on.
Cosmetic plastic surgery reshapes different parts of the body.
Reconstructive plastic surgery is covered by insurance, whereas cosmetic plastic surgery is not. If you have a breast reconstructed after a mastectomy procedure it is known as a reconstructive procedure and it can only be performed by a plastic surgeon. Having a breast lift or breast augmentation surgery can be performed by both a plastic and cosmetic surgeon.
Cosmetic or plastic surgery procedures involve surgical or non-surgical procedures that are minimally invasive.
What are Different Types of Cosmetic Surgeries?
There are many different types of cosmetic surgeries catering to the different needs of patients. A few of the most popular ones are breast augmentation, liposuction, tummy tuck, facelift, Rhinoplasty, and so on.
The Difference Between Cosmetic and Plastic Surgeons?
Both cosmetic surgery and plastic surgery are fairly different and so are their training procedures. There is no specific residency program on cosmetic surgery, physicians who pursue cosmetic surgery must hail from a medical school and combine a residency or fellowship program in a surgical department with board certification in the specialty and they must attain a post-residency program in the field of cosmetic surgery. The cosmetic surgery is followed up by a residency or fellowship program in the surgical department or through other lectures, workshops, and seminars. Physicians who have vast experience in the field of cosmetic surgery attain certification by the American Board of Cosmetic Surgery (ABCS), which needs to follow a standard set of criteria to ensure they get the fellowship and skill required for the cosmetic surgery.
Plastic surgeons chart the same course as cosmetic surgeons. However, after one completes finishing medical school they complete a residency and/or fellowship in plastic surgery, and then they attain certification by the American Board of Plastic Surgery. Someone with a plastic surgery degree needs to take steps to gain experience in cosmetic surgery with additional workshops, fellowship training programs, seminars, and lectures, and attain the proper certification by the American Board of Cosmetic Surgery.
Board certification is important to add to a surgeon's qualifications. The above certifying boards have varied requirements and evaluate a physician's education and experience in a non-member of fields. It is important to note that the public, and healthcare professionals, understand the basic differences and the patients can make the right decision while choosing a surgeon for a specific procedure, whether it is for a cosmetic or a plastic surgeon. Education and patient safety are of paramount importance for the American Academy of Cosmetic Surgery (AACS) mission to ensure that cosmetic surgery provides quality patient care.
Why Go for "Board Certified "Surgeons?

Surgeons have varying board-certification requirements all depending on the board that grants them certification.
The actual or the real plastic surgeons attain certification from the American Board of Plastic Surgery (ABPS). ABPS provides a proper plastic surgery certification falling under the American Board of Medical specialties, which has maintained its reputation and stuck to the parameters since 1933. The members of ASPS members get their certification under the ABPS.
Board-certified plastic surgeons have to complete at least six to eight years of certain training who are accredited by a plastic surgery training program in the United States of America. It is under a regulation under the Accreditation Council for Graduate Medical Education or ACGME as it is known.
Most of the major society certifying plastic surgeons is done by the American Society of Plastic Surgeons (ASPS). The ABCS or American Board of Cosmetic Surgery certifies a surgeon who does cosmetic surgery.
Cosmetic surgeons cannot call themselves that as they do not have the board certification.
Patients who ask doctors to perform cosmetic procedures in their office or at an outpatient surgery center should ensure that the physician is approved and is given the go-ahead to perform the same procedures at the local best cosmetic surgery clinics or hospitals. They should look for the best plastic surgeons in Hyderabad India or other parts of India.