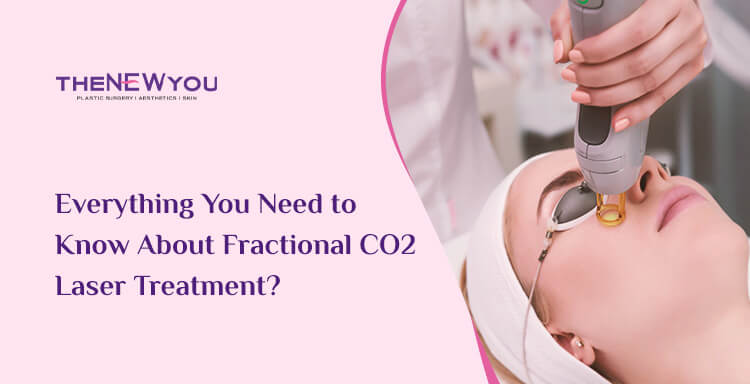 Everything You Need to Know About Fractional CO2 Laser Treatment?
Dermatologists and clinicians utilize fractional CO2 laser treatment to treat acne scars, deep wrinkles, and other skin problems. It's a non-invasive process. It helps remove the damaged skin's outer layers with a laser made of carbon dioxide. And, resulting in firmer, spotless, and younger-looking skin. Once the procedure is performed, you can immediately resume your regular activities after the quick (15-20 minute) process.
LASER as a medical procedure works by generating a wavelength of high-energy light. When it is focused on a particular skin condition, it produces heat and kills unhealthy cells. There are several types of lasers. Each one is distinguished by the medium that produces the laser beam. When the light of a specific wavelength passes through it, the medium amplifies it.
Why is a fractional co2 laser used?
Fractional Laser is best for people who want to reduce the look of acne scarring, fine wrinkles, pigmentation. Also, other skin issues can benefit from fractional CO2 laser treatment. You may be advised to go for such type of surgery if you have non-responsive skin as a result of a botched facelift. It can, however, treat a wide range of skin issues, including Spots of old age, Oil glands that have grown in size, Wrinkles and fine lines, Hyperpigmentation, Sun damage that causes sagging skin, and Skin tone disparity. It is usually performed on the face. Although the laser can also be used to treat the neck, hands, and arms.
Thus, there are various fractional CO2 laser uses for cosmetic treatments. You must meet your cosmetic surgeon to know more.
What are the major benefits of fractional CO2 laser treatment?
Fractional Carbon dioxide laser treatment provides the following benefits for some skin conditions:-
The CO2 laser is not pigment-selective. Pigmented and non-pigmented lesions of skin can be effectively targeted. It is a tissue-selective and high-precision treatment. The procedure is less invasive than chemical peeling and dermabrasion and the downtime is short. It takes only about a few weeks to recover well.
How does a fractional co2 laser work?
Ablative lasers work by removing skin layers. It warms the underlying skin while eliminating the thin outer layer of skin. This promotes the development of new collagen fibers and Fractional Co2 laser results in clearer, smoother, and tighter skin as the epidermis repairs and regrows. However, non-ablative lasers, such as IPL devices, do not remove any skin layer. They stimulate collagen formation. Also, helps improve skin tone and texture. This is less invasive and takes a small period of time to recover.
Are there side effects of fractional CO2 laser treatment?
As discussed above, Co2 laser acne scars and Co2 laser for wrinkles treatments is quite effective. But, since the fractional CO2 laser process heats the skin, patients may experience some redness or swelling in the treated area. Some patients may even develop scabs and pain. Once the skin treatment is done, you may experience redness, hyperpigmentation, and infection (rare). However, by adopting some dermatologist-recommended post-care measures; the risk of these adverse effects can be reduced or even prevented.
Is fractional CO2 laser harmful?
The procedure is simple and safe to employ. And, it has been widely used for a variety of clinical and cosmetic purposes in people of all skin types. The medical procedure of CO2 laser resurfacing has a very low chance of causing side effects. The pain is generally mild for most people. However, because the cosmetic procedure involves numbing the area, your face will be numb, ensuring a painless procedure.
If you wish to undergo fractional CO2 laser treatment in Hyderabad, you must reach out to a skilled cosmetic surgeon near you. This treatment is one of the best treatments for removing scars and wrinkles. You must consult your doctor to know more.