What are the Best Anti-Aging Treatments to Look Younger?
The first thing we notice when we get up early in the morning is our skin. Is it looking, right? That's the first thing we ask ourselves. As we grow older we are aware of the changes that age, pollution, bad diets, inflict on our skin! Aging catches up with us sometime or the other, so we notice our first wrinkle or laugh lines, robbing the beauty of our skin. But there are ways to stall the aging right in its path. The beauty world is revolutionized by various state-of-the-art beauty solutions so that you can revamp yourself in the real sense of the word! Yes, you can choose from the best anti-aging treatments and get the one which suits your requirement the most.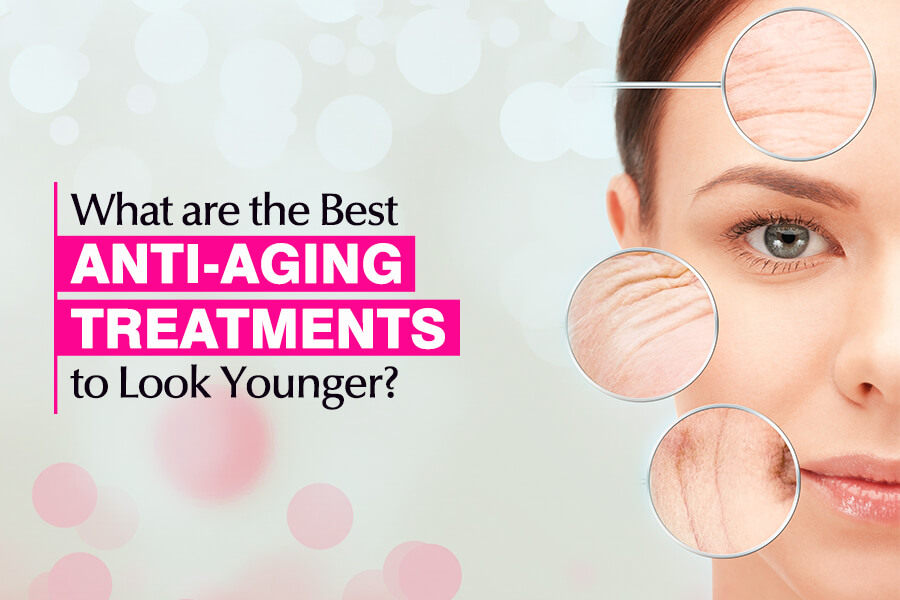 The Beauty Solutions – The Best Anti Aging Treatments
The first thing that hits aging skin is dry patchy skin, the skin loses its luster and you rue over the fact that your glow has somehow deserted you. But there is some hope in new age skin treatments. What are the skin treatment options that you must consider to restore the glow back on your face? You can try the skin treatments listed here, available at few of the best anti-aging treatment clinics.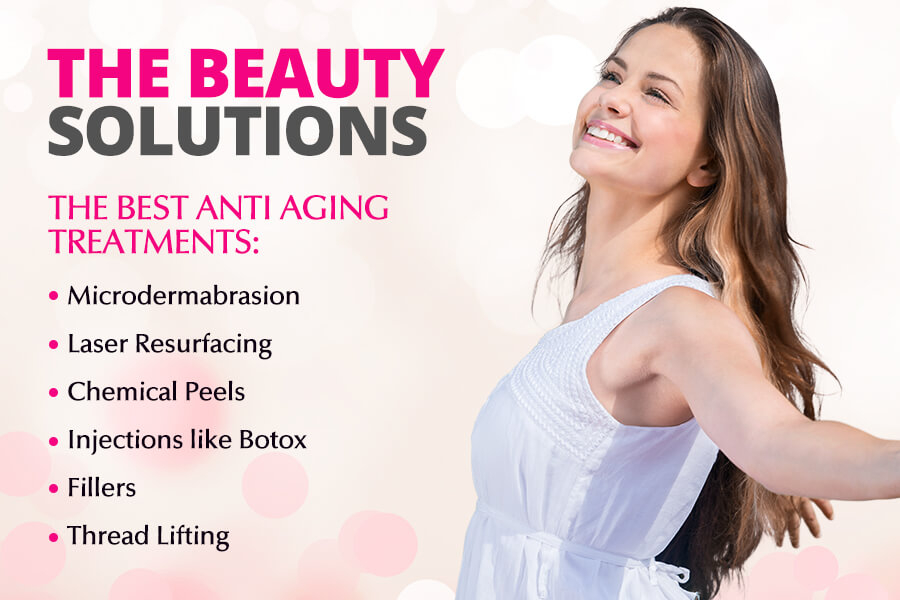 Microdermabrasion – This is a treatment in which the doctor uses tiny, fine particles or a very hard diamond-tipped wand to brush off cells from the topmost layer of the skin and coerce new cell growth. The process is uncomfortable but fortunately not very painful. But one treatment may not be enough so it should be continued giving a gap of a week or so. You should discuss with your doctor as to which treatment he/ she might employ because sometimes rough buffing of the skin, is better than light touches. The average cost of Microdermabrasion may not seem worthwhile to some because of its effects last only a few days, so it might not seem such a steal!
Laser resurfacing – This treatment uses high-intensity light to improve the look of your skin by reducing the look of wrinkles and also make your skin taut! The effect of your treatment and recovery time depends on various factors. There are lasers which are superficial, some are deep. The effects of Laser Resurfacing last for several months but you need to ensure that you don't, go out in the sun and smoke, otherwise, they will erase away the good effects of the treatment.
Chemical Peels – This treatment is used to solve minor skin issues like mild acne scars, age spots, dull skin texture, skin discoloration, or wrinkles around the eyes or mouth, chemical peels are effective in removing the outer layers of the skin and bring about the growth of new, smoother, more evenly colored skin. Understanding chemical peels are important as it all depends on the peel's intensity which is sometimes mild and intense and results in skin reddening and other side effects. Depending on the intensity of the treatment, the effect of the treatment may last for months or several years. If you undergo treatments in good places like anti-aging treatment clinics, you will be able to address skin issues like these.
Injections like Botox – Botox contain botulism toxin and are basically injections, which you need to inject directly on the wrinkles. The effect lasts for months and largely depends on how often you do the treatment. This treatment smoothes the appearance of wrinkles, considerably.
Fillers – Fillers are a type of wrinkle treatment that has the potency of replacing lost collagen on certain parts of your face and body such as glabellar frowns, nasolabial folds, chin augmentation, forehead or cheekbones and filling up sunken cheeks. It also helps in forming a higher nose bridge, making your nose sharper and correcting acne scars. Fillers can also be used to enhance your lips and adding volume to them.
Thread lifting – A thread lift is a type of procedure that gives your face a visible lift. Temporary sutures are made to give your skin a subtle "lift." The surgeon suspends the face by stitching up portions of it. This pulling-back action gives the face a tightened look. This thread also taps into the body's healing response and directs large amounts of collagen to the targeted areas. Collagen has some major benefits to aging skin.
These treatments are expensive and might not suit all, especially people who are obese. But nothing can substitute a good diet and a solid health regime. Also, one must slather on the copious amount of sunscreen, which protects one from the harsh rays of the sun. Sun protection is very important as your skin is sensitive and long exposure to sun rays can accelerate the aging process.
Staying hydrated is another skin tip which will continue to keep you young for ages to come. These are good habits that you must inculcate right from the time when you are young to have beautiful skin, even when your biological clock ticks away to glory. Good habits help to build good skin, but despite your best efforts age does catch up with you, but there is a silver lining to this dark cloud, you can use these treatments to change the way you look and boost your confidence several notches higher.