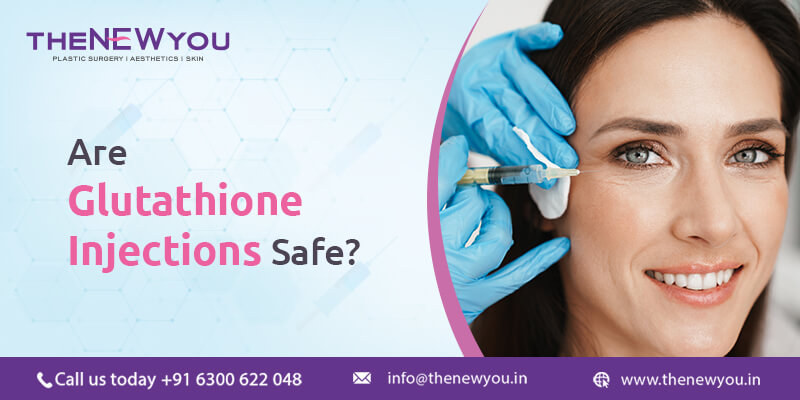 Are Glutathione Injections Safe?
It is common knowledge that as we age, our skin begins to show signs of aging by getting pigmented, wrinkled, and saggy. There are a variety of internal and external factors that could hasten the onset of various skin conditions. Therefore, it shouldn't be surprising that a lot of us constantly look for ways to renew our skin, get rid of extra pigmentation, minimize wrinkles and fine lines, etc. With the growth of the cosmetics industry, there are several ways to do this, and one of them is by administering glutathione injections.
Strong antioxidant qualities of glutathione are well known for assisting in the neutralization of negative free radicals and lowering oxidative stress. This may have positive benefits on general health and possibly slow the aging process.
What is a Glutathione Injection?
The tripeptide glutathione is made up of the amino acids glycine, cysteine, and glutamic acid. It is produced by the liver, which is also necessary for numerous biological activities. Glutathione injections assist in tissues growth and repair in addition to assisting in the synthesis of essential proteins and chemicals. Additionally, it promotes normal immunological performance.
In general, injecting glutathione brightens the skin, evens out uneven skin tone, and reduces superficial cosmetic faults. Additionally, it can aid with abrupt breakouts and cystic acne. The effects of glutathione injections on hyperpigmentation, sunspots, wrinkles, acne, as well as melasma are reduced by eliminating toxins and free radicals from the body. It also has anti-inflammatory properties.
Benefits of Glutathione Injection
Glutathione has a number of advantages, including improved, whiter skin, increased energy, endurance, and body cleaning. But bear in mind that science does not back up these advantages.
Glutathione bypasses the body's laborious and usually inefficient digestive process when given intravenously. When the antioxidant is administered intravenously as opposed to orally, it is completely and substantially more quickly absorbed.
1. Skin Whitening
Injectable Glutathione is frequently used to achieve the desired dewy, incandescent shine. Wrinkles, dry spots, acne, hyperpigmentation, and dry patches are a few of the imperfections that take away from one's natural brightness. Asian women, known for their perfect skin and regular use of glutathione in skincare products, value this component.
An antioxidant amino acid called glutathione helps to treat liver damage and skin lightening. It gets rid of free radicals in the body. But these injections are safe when given under the supervision of a trained medical professional. They may result in particular allergic reactions if they are performed incorrectly.
2. Cell Renewal
When glutathione detoxifies the body, skin health improves. This means that it rids the skin of the dirt and grime that ordinarily stains it. Glutathione additionally promotes cell renewal, which is essential for achieving a radiant glow. On rough skin, dead cells amass, dispersing light and creating an appearance of dullness and weariness.
The encouragement of new, underlying cells to the surface and the elimination of dead skin cells are both aided by skin renewal. This process, also known as cell turnover, is aided by exfoliation. However, exfoliating more regularly than once or twice a week may be damaging rather than helpful.
3. Skin Radiance
Both young and old people's cell renewal is sped up by glutathione. The smooth surface these new cells produce reflects light and restores your brilliance. You get a refreshed face each month thanks to the average cell turnover rate of once every 28 days. By the time a person is in their 40s, this has slowed to 45 days, and it keeps slowing as they get older. As a result, the skin loses its luster and becomes bland. The second internal factor that leads to bright skin is good circulation. Through increased blood flow, the skin is nourished and fed. It eliminates impurities and gives the skin a wonderful rose shine. According to studies, glutathione lowers blood lactic acid levels, which in turn lowers blood pressure.
Side Effects of Glutathione
Receiving a glutathione injection procedure could have several unfavorable side effects, just like any other cosmetic procedure. Depending on the dosage, undesirable side effects could range from minor to severe. You should have these injections administered by a licensed and experienced medical professional to lessen or lessen the severity of side effects. If a patient takes more medication than is recommended, significant side effects such as renal failure or blood poisoning may appear. In addition, the following additional adverse effects may manifest if a dose larger than 5 grams is administered:
Nausea
Skin rashes, hives, or allergic reactions
Diarrhea
Liver, renal, and nerve system toxic effects.
Additionally, the use of Glutathione drips, which frequently include vitamin C, may cause kidney stones to form. Stevens-Johnson Syndrome can also be brought on by glutathione injections for skin-whitening techniques that employ glutathione.
Final Words
Glutathione injections may help with an uneven skin tone, but you must proceed with extreme caution. Furthermore, it is difficult to define the safe Glutathione dosage due to a lack of evidence. Please keep in mind that dosages are important.
Before using a product, thoroughly read the label and speak with a healthcare provider. It's also suggested that you only give the injection under the supervision of a medical professional. Please be informed that Glutathione-containing products are primarily designed for medical purposes and not for cosmetic use.