Is Tummy Tuck Surgery Safe?
A flat tummy is something everyone wants and tummy flab is the hardest to lose. Flat abs look great but it also reflects our health in general. Belly fat can lead to a number of chronic health conditions. So, if one is trying to lose the extra flab from the tummy and diet and exercise have not provided the desired results, then it is time to give tummy tuck cosmetic surgery a try.
What is a tummy tuck surgery?
A tummy tuck surgery is one of the most sought-after surgeries across the globe as it can recontour the belly and increase the elasticity of the weakening skin. One can get toned and tightened tummy with a tummy tuck abdominoplasty.
It takes 1 -5 hours to perform the surgery. Surgeons perform this under general anesthesia. The plastic surgeon cuts loose the tummy skin from the tissue and eliminates the excess flesh from the area. On average a patient takes 6 weeks to recover and the stomach gradually tightens and firms up. A tummy tuck surgery can make one look amazingly confident but that's not all there are more reasons to give tummy tuck surgery a try.
Types of Tummy Tuck Surgery
There are three types of tummy tuck surgeries popularly performed-
Mini Tummy Tuck-
The most basic type of tummy tuck is a mini tummy tuck. Here a small amount of skin is removed from the abdomen and an incision is made around the tummy and the excess skin is removed thereby giving a firm look to your abs. In this procedure, the navel does not require repositioning and the patient can get back to normal activities within a week.
Standard Tummy Tuck-
This kind of tummy tuck surgery is customized for people who have a large amount of fat or loose skin around their tummy. In this procedure, the incision is larger compared to the mini tummy tuck and navel repositioning is required after the removal of excess fat or skin. The recovery takes longer in this type of surgery, usually 2 to 3 weeks. Patients need to avoid intensive activities after surgery.
Extended Tummy Tuck-
This type of tummy tuck is suitable for those who have a large amount of fat around their tummy, hips and lower back. An extended tummy tuck is performed in conjunction with liposuction to drain the extra fat around the tummy.
Top Benefits of a Tummy Tuck Procedure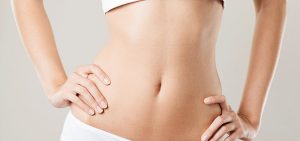 A tummy tuck procedure can give your flagging confidence a boost and make you carry off any clothes with a great deal of confidence. Check out the other benefits of tummy tuck here.
The Short-cut to Perfect Looks
A flat tummy and a slim body can make you feel amazing and boost your confidence levels to an all-time high. This surgery can make you opt for a healthier lifestyle, invest more in keeping that extra weight off and keep the tummy in shape.
Having a good posture holds Paramount ImportanceA slouchy posture can only mean bad news, in the long run, yes a swayback can lead to back pain. A tummy tuck surgery can strengthen and tighten your core and spine. This can make you stand straight and see a major improvement in your posture.
Adds that Extra Spark of Confidence
Tummy tuck gives body confidence as you are able to get rid of tummy fat. Also, this can turn you into a veritable clotheshorse as you can carry off almost anything. When you look good, you feel confident and let's just say a healthy dose of confidence never caused any harm to a person!
When should you Avoid an Abdominoplasty (tummy tuck)?
If you're a woman and considering having more children, postpone a tummy tuck until you have completed the cycle of having children. During surgery, your vertical muscles may get tightened. Future pregnancies may lead to a condition of hernia. Also, if you are thinking of losing more weight, then go for tummy tuck only when your weight has stabilized.
Tummy tucks may cause scarring. A quick look at one of the tummy tuck before and after images and it is enough to convince anyone to go for the surgery. But are there any side-effects or any long-standing impact on the body? Yes, there is, the scar is long and noticeable, one has to keep that in mind, also, discussion with the surgeon and determining the appropriate procedure is key to getting optimum results from the surgery.
Keys facts about the Safety and Risks of Abdominoplasty
The decision to have tummy tuck surgery is completely self-motivated and one has to decide whether this will help you achieve your goals and whether you will be able to accept the changes it has on your body. Understand the risks and complications that come with surgery like a tummy tuck,
Possible risks of abdominoplasty include:
• Scarring
• Infection
• Bleeding (hematoma)
• Poor wound healing
• Fluid accumulation
• Blood clots
• Skin loss
• Anesthesia risks
• Changes in skin sensations
• Skin discoloration and prolonged swelling
• Wound separation
• Fat necrosis
• Recurrent looseness of skin
• Asymmetry
• Persistent pain
• Deep vein thrombosis, cardiac and pulmonary complications
• Nerve damage
• Persistent swelling in the legs
• Unsatisfactory aesthetic result
• Possibility of revisional surgery
Select the Right Clinic for your Tummy Tuck Surgery
If you have taken a decision to opt for a tummy tuck surgery, then research more to find the right clinic. Ensure the clinic delivers what it promises and has reputable and experienced surgeons on board. Before going for any surgery, chalk out a budget plan. This will help manage the finance part of it better. Go for a clinic that promises state-of-the-art equipment. After surgery completion, follow the basic guidelines by the surgeon. Postsurgery care is as important. This will ensure efficient and effective results. Continue to eat right and exercise. This will help work towards getting a perfect physique. Plan everything down to the last detail. A planned procedure is much more likely to produce optimum results. Consider and evaluate all the risks and complications to get the desired result.