Know About Breast Expansion During Pregnancy
As soon as you conceive, your body starts changing in several ways preparing your body for the baby's arrival. It is not only the womb that's busy changing, but your breast anatomy starts changing drastically too. Don't worry it's completely normal but if you still want to change your breast after childbirth opts for breast augmentation in Hyderabad.
The increased hormone levels during pregnancy are one reason that your body keeps changing. The hormones start boosting blood flow and cause major changes in the breast tissue and your breasts start seeming swollen, sore and seem sensitive to touch. Many women may describe the sensation as painful, just as it seems after the monthly cycles.
Breast Expansion During Pregnancy
Your breasts go through several changes right from the time you are pregnant to when you start nursing your baby. How soon does your breast change when pregnant? We will find out about some of the distinctive changes in the breast during pregnancy. Breast changes, read tenderness seem to be one of the earliest signs of pregnancy, it may start near the 4th o 6th week and last for the entire first trimester.
What Happens to the Breast When Pregnant?
Top 7 Ways your Breasts Change During Pregnancy
If you're pregnant, your belly changes and so does the rest of your body. Get to know all about the breast changes during pregnancy.
Breast growth. What happens to the breast when pregnant? Around the 6 to 8 weeks, your breasts start to grow and the size increases throughout the entire pregnancy period, your cup size may go one size up one size or two, it is most noticeable in your first pregnancy. You may even develop stretch marks.
Pigmentation changes. You may be surprised to note that the veins in your breasts become more prominent and right after the initial few months, your areolas become darker than before.
Areola changes – There are tiny bumps on the areolas before you were pregnant, they become more prominent when you become pregnant. These bumps are an oil-producing gland known as Montgomery's tubercles.
Leaky breasts. Around your third month, your breasts start to leak and start producing colostrum, a yellowish fluid or the immune-boosting milk your baby will feed on as soon as he/she is born. It differs from women to women, some women may leak a small amount of this thick yellowish substance later in their pregnancy period some earlier, and some may not leak at all.
Lumps and bumps in breasts – Many women may suddenly find lumps in their breasts during pregnancy. No cause for panic as they may be milk-filled cysts or in some cases benign breast tumors. Just let your healthcare provider know about your lumps that develop during this time.
How Can You Reduce Breast Pain and Discomfort During Pregnancy?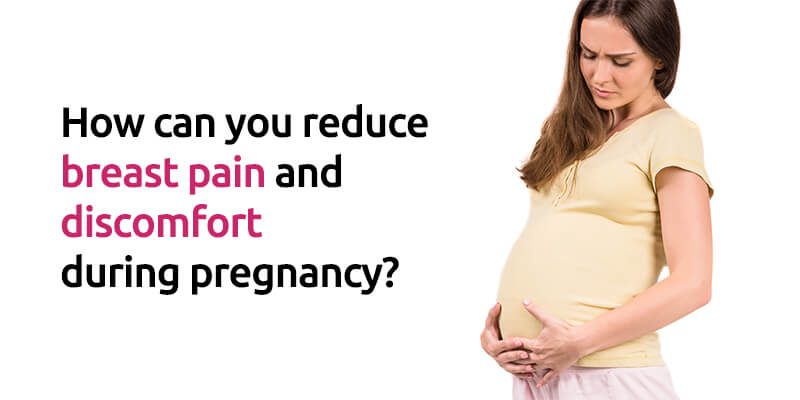 Supportive bras are your best friends. Get it fitted by a knowledgeable salesperson who will give you the right bra according to your shape and size. You end up with sagging breasts before we learn more about sagging breasts and its prevention let's understand how your body goes through a roller-coaster journey through the various trimesters and how you can take care of your breasts by wearing the right bras.
Skip the underwire bras as they may not be exactly comfortable during this period, also this is a time when comfort is the key so breastfeeding moms steer clear of the oh-so-uncomfortable underwired bras. Pay close attention to the type of materials you are choosing for your bra, always go for cotton and avoid synthetic materials. This prevents chafing and keeps you comfortable for long hours.
Best Bra Tips to Keep your Breast Comfortable During the Pregnancy Period
Follow these tips to give your breasts extra support and comfort during the pregnancy period.
Choose maternity and nursing bras. Invest in a good maternity bra for some tender loving care for your breasts. Maternity bras usually do not have underwire cups. If you are breastfeeding, then select a nursing bra during your third trimester.
Sleep bra. Many women choose to buy a special pregnancy bra to feel comfortable during this period, but actually many sleep bras are the same as maternity bras, they have wider straps to provide greater support and a soft cotton lining for extra support.
Sports bra. You need the extra cushioning that a sports bra provides while doing exercises during pregnancy. It is very important to wear supportive bras during this period, especially when there is breast expansion during pregnancy. Choose a supportive bra that offers comfort and fits you like a glove. This minimizes discomfort and maximizes comfort.
Women should buy their bras ensuring that they are comfortable and not too snug on the skin. There must be enough room for your breasts to grow and breathe.
What if you do not Notice any Breast Changes during your Pregnancy?
Many pregnant women start experiencing breast changes, but many others may not experience any changes and it is completely normal, too. You may not experience any of the symptoms listed above, read they may not turn bigger, leak, or feel sore that does not mean you may be experiencing a healthy pregnancy or that you may not be ready to breastfeed. Some women's bodies or breasts do not change drastically during pregnancy. Your 'normal' may turn out to be completely different from your besties 'normal,' so it is important to relax and if you do notice something is amiss, let your health practitioner know about your fears and yes if you are worried that your breasts may start sagging after pregnancy and breastfeeding you can always go for breast augmentation surgery theNewyou clinic Hyderabad to transform your breast shape and size. The trick is to relax and enjoy this phase as much as possible.