Laser Hair Removal Pros and Cons
Women strive to look flawless each day, every day, but somehow the unwanted hair makes the job that much harder and the ways that they deploy to get rid of unwanted hair is painful and troublesome and to top it off it is temporary too! Yes, that's true you take so many pains and the results last for as little as fifteen days sometimes even shorter than that, that holds true for removing unwanted hair. So, if you are looking for a solution in the form of permanent hair removal treatment then your search ends right now. That's right, laser hair removal treatment is THE SOLUTION, not only because the results are permanent but also because they give the results minus the hassles, especially the pain. Learn about the laser hair removal pros and cons here.
Should you use laser hair removal over waxing, tweezing and threading? The following pointers can change your opinion on laser hair removal.
How Does Laser Hair Removal Work?
All hair removal methods, such as waxing, shaving, depilatories are something which you have to do on a regular basis and they take a major chunk of your time. However, now the hair removal procedures are more evolved as they are more technologically advanced, case in point laser hair removal procedure. How does a laser hair removal procedure work? It involves the process of the application provides the root and destroys the follicle. The follicle once damaged, stops producing new hair.
Try permanent hair removal treatment that involves the procedure of emitting heat energy which penetrates deep down to reach the root of each hair strand and damaging the follicle. The hair root is destroyed and stops hair growth.
The procedure requires six to eight sessions. This is to make sure that the damaged hair follicle does not produce more hair over an extended period of time. It is a safe procedure for all hair types and skin tones.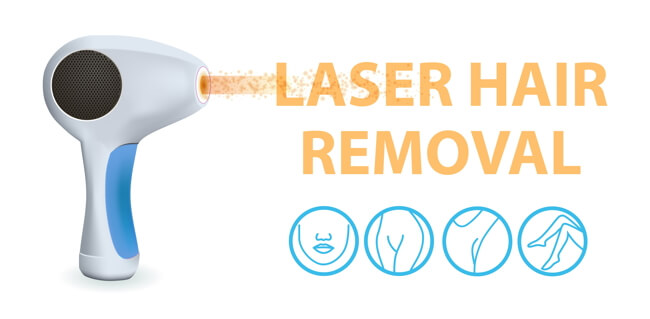 Laser treatments are effective in different parts of the body. Different parts of the body include chin, legs, hands, bikini line and underarms can all undergo treatment. The pain level differs from one part of the body to another. For example, laser hair removal from the underarms can cause more pain when compared to the arms.
One of the most important Laser hair removal facts is that it is a safe procedure for the skin. The procedure is followed by the application of cooling creams which has a cooling effect on the skin.
So what are the Laser Hair Removal Pros and Cons?
What are the Pros of the Treatment?
It reduces hair growth – While laser hair removal cannot get rid of hair for good, the reason being only electrolysis is FDA-approved for removing hair permanently, however, what it does is reduces the hair growth
drastically and yes, you may not need to shave at all.
It can be done on any part of your body -You can get rid of hair on any part of your body, such as legs,
back, bikini line, stomach, face and so on and you can get it done on any part of your body. That's a huge
bonus!
It is relatively painless – When it comes to pain laser hair removal isn't as painless as shaving or as painful as waxing. The technicians use various techniques such as ice to help numb the area before starting the treatment and post-treatment as well. The thicker the hair, the more the pain, so by the end of the treatment,
the pain almost comes to naught.
What are the Cons of the Treatment?
It's an elaborate process. A laser hair removal session on the underarms can be completed in a minute. However, one requires multiple sessions to see real results ( between three and eight all depending on the size of the area), and there is a waiting period of six weeks between treatments.
It's can cause a dent in your pocket. If you count how much you spend on razors or bikini wax sessions in your lifetime, it may come don to a sizeable amount. Laser hair removal is what you can call a beauty investment.
It does not work as great for grey or white hair. The best way for the laser ray to pick the pigment is to differentiate between the contrast between skin color and the pigment color in the hair follicle. The laser hair removal works perfectly well on fair skin with dark hair and acts as worse on darker skin. However, it does not mean people with a darker skin tone cannot go for it, they have to ensure that you go to a well-equipped facility. Certain lasers, such as the Nd: YAG, are more suited at distinguishing between different hair and skin types.
Be careful of burns and scars. An untrained technician can make hair removal a complete misadventure for you as it can leave burns and scars on the skin. So, it is important for you to conduct extensive research to find out more about the cosmetic clinic and whether the laser technician has proper certification.
The side-effects to be wary of. Though most of the time you can expect little or no side-effects with the laser hair removal method, there are some like itching, burning sensation, swelling. However, a consumer may feel certain sensations of blistering, infection and skin discoloration.
So, laser hair removal for hair treatment is a more viable option for most women, as it is a painless procedure and it gives results which last longer than conventional methods like tweezing, waxing, shaving and so on. If you have decided to go for laser hair removal, you need to go for a reputed laser hair removal clinic so that you understand the pros and cons of the procedure and then go for it.