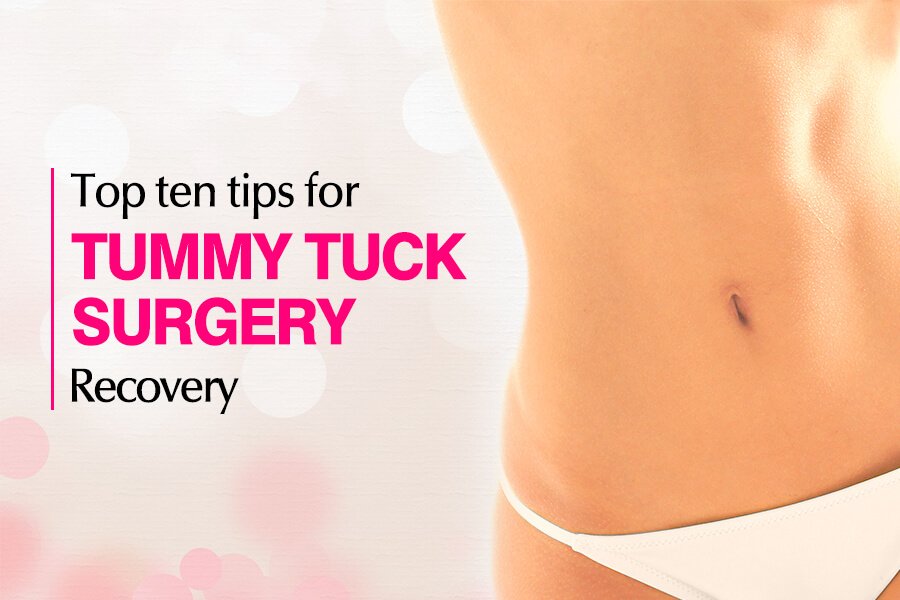 Top Ten Tips for Tummy Tuck Surgery Recovery
When you have made up your mind to go for a tummy tuck surgery, the first thing to find out is an experienced tummy tuck surgeon. The next steps to focus on are where you are undergoing the operation, whether you are following the steps suggested by your surgeon and how you are recovering. Your post tummy tuck surgery recovery depends on how you stay true to the instructions given by your surgeon and will finally impact your recovery outcomes. Taking rest in the initial phase post surgery will help you gently ease back into normal life and help in the overall healing process.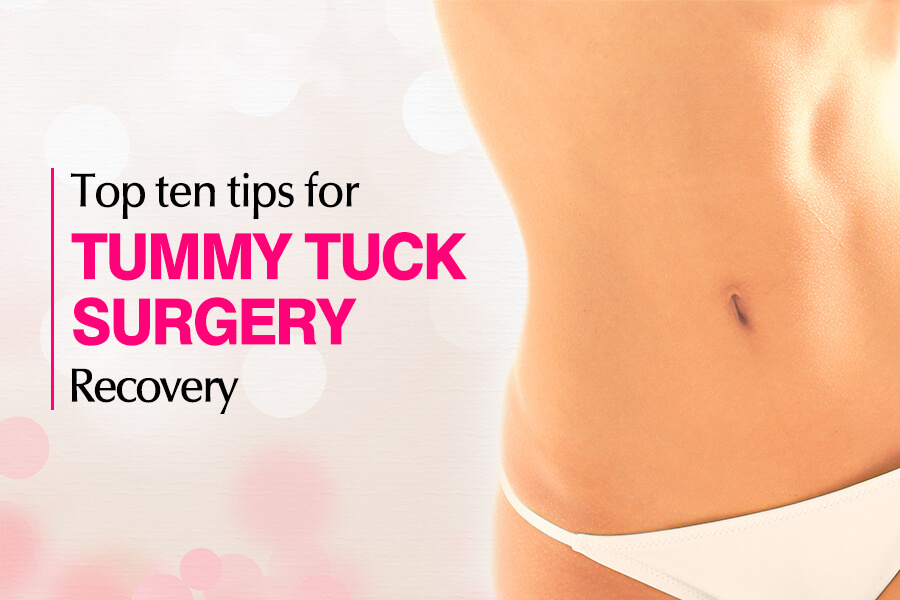 You want to get back into the perfect shape right after your surgery, but it takes time, and the final results take as much time like 6 months, so you have got to be patient and follow these ten useful points to ease your way back into normal life.
Tummy Tuck Surgery Recovery – Ten Useful Tips
We know you would love to get a flat stomach as soon as you venture out of the operation theatre, but it does not happen that way. The healing process takes a long time. Every person is different and hence your healing process will also be different. Follow the below-mentioned tips to recover quickly from tummy tuck surgery.
Choose a Reputable Tummy Tuck Surgeon
The decision to get a tummy tuck surgery is not something you should take lightly, and so focus on choosing the right surgeon for you because there have been lots of hair-raising cases where the patient had to undergo health issues just because he/she did not spend enough time in finding the right clinic or the right surgeon for the surgery.
An experienced and reputable tummy tuck surgeon will cater to your specified needs such as getting the job done, getting rid of the flabby skin and tightening and repairing weak abdominal muscles, and so on. He/she should be an expert at handling body contouring surgeries.
Don't let expectations override the results
It is true that your mid-section silhouette is going to change forever after a tummy tuck surgery, but it is not going to change in one day. In fact, you will have to endure a difficult recovery process. You will also be barred from doing your regular activities for the initial few months.
Also, you will feel sore after the surgery and experience pain in the incision area, which will gradually go away, but you have to get prepared mentally and understand that the first few months won't be an easy-breezy ride for you.
Practice activity in moderation
For the first few days, even getting up and going to the bathroom will be an uphill task, however, that does not mean you will spend all day sitting. Gentle walking will activate your muscles and prevent blood clot formation in your legs. But be mindful of the fact that you are in no condition to walk for long hours at a time or start lifting heavy. You have to take things easy for a little while.
Don't go overboard with physical activities
Over-exertion and too much stress can cause a serious impact on your recovery process. Not only that, it can also lead to several complications such as swelling and pain. Stop yourself from lifting heavy (more than 10 pounds) for about six weeks, at least.
Support garments are mandatory
You may be asked to wear a corset-like support garment to support the incision area. This garment helps in reducing the swelling and accelerates the healing process.
Take care of the incision area
Both pre and post-surgery care includes keeping the abdomen area clean and free of infection. Before surgery, it involves cleaning the area with chlorhexidine solution. This helps reduce the chances of infection. Post-surgery too, you have to keep the incision area clean.
Try and avoid constipation as much as possible
Difficulty in bowel movements is a common occurrence, post major surgery. Try and avoid overstraining at the bathroom, and for the same, you can ask for over-the-counter stool softeners to stay regular and avoid constipation.
Get time off from work
Many patients can get back to work as early as a week, but you may feel differently and require more time off work. Just listen to your body and act accordingly.
Keep a tight rein on your food and drink
A low-sodium diet is an ideal one post a tummy tuck surgery, and that means a strict no to all kinds of packaged foods. This will reduce swelling and enable faster healing. Also, avoid taking alcohol while you are recovering from tummy tuck surgery. Alcohol dilates blood vessels, leading to unwanted bleeding. Eat more fruits and veggies as they have loads of fiber.
Stay calm and you will soon see results
Going through a major surgery can lead to emotional issues. Don't worry, it is part of the process and you will soon recover from post-surgery blues. Just have patience and faith, and you will soon come out of it all unscathed, and see a new, fitter you!