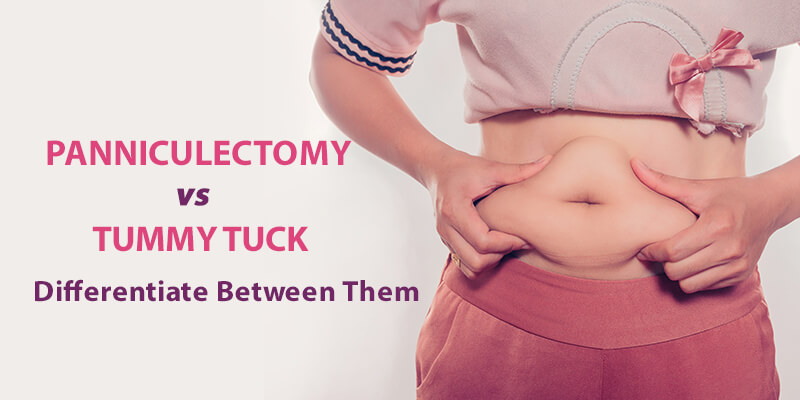 Panniculectomy vs. Tummy Tuck. Differentiate Between them
If you are overweight, it is important to lose the extra weight and this is the right step in helping you maintain good health with cosmetic solutions such as tummy tuck procedures. This will help slash down the risk of several health conditions, health is wealth and in order to boost happiness and enhance your health. Weight loss is hard and it is important to lose the extra weight and feel good about you. That is why cosmetic procedures such as Panniculectomy and tummy tuck procedures are required to help contour your body after massive weight loss.
It is important to follow instructions of your surgeon; both pre-surgery and post-surgery to reduce swelling after tummy tuck and accelerate healing.
Whenever we hear a person losing substantial weight, we hardly know all about the hard work that goes into it and the after-effect, the sagging skin is a case in point. The sagging skin may prove to be embarrassing for you. Sometimes you doubt yourself and wonder whether it was worth the effort. The weight is gone and all you are left with is hanging loose skin. The two treatments that may help you lose the sagging skin are a tummy tuck and panniculectomy. You may have heard about a tummy tuck but have you heard about panniculectomy? Let's find out what is it and the key points of panniculectomy vs. tummy tuck.
What is panniculectomy? Panniculectomy vs. Tummy Tuck
What is the procedure of panniculectomy all about? Well, the pannus is regarded as an apron of skin that hangs down the stomach, legs, and genitals after substantial weight loss. A panniculectomy is also known as a body contouring procedure and helps tighten loose, sagging skin from the abdomen and surrounding regions. This procedure is performed either by itself or sometimes combined with a tummy tuck.
Many patients go for panniculectomy after substantial weight loss and are followed after bariatric surgery for obesity, or after a complicated pregnancy procedure that makes the skin lose elasticity and fail to return to its original skin form. The pannus may fall beneath the patient's knees and may hamper your everyday activity. There are a number of health issues that follow such as back issues, ulcers, skin rashes, ulcers, and so on. It may impact your quality of life and it may cause problems in your day-to-day activities such as walking, standing, sitting, or driving. A tummy tuck surgery is a more invasive surgical procedure and can bring about massive changes in the body.
Panniculectomy for the body contouring
Only a board-certified plastic surgeon can carry out a panniculectomy surgery that has great experience in this surgical contouring procedure. The surgery is performed under general anesthesia and one may require several hours to complete. You may also be asked to stay in the hospital after the surgery.
In a panniculectomy, surgeons make an incision just under the sternum and reach down the pubic bone. Another incision is made along the pubic bone, allowing the surgeon to remove excess skin and fat from the stipulated area. The skin which is extracted out is pulled taut and sutured together to provide a well-contoured, slender appearance. This will make the surgeon craft a new belly button and create an all-new look for the abdomen.
Recovering from Pannilectomy
The procedures that follow the surgery are that drains are inserted into your incisions and drain out the excess fluid from the body. Once you are released from the hospital, it is important that you rest as much as possible to allow your body to heal from surgery. You can expect some side effects from the surgery such as pain, bruising, and swelling, these side effects are controlled by pain medications as prescribed by a board-certified plastic surgeon.
Bathing after body contouring with Panniculectomy Surgery
You will only be allowed sponge baths in the initial few days following your panniculectomy. It is extremely important to limit your physical activity as you start recovering from exercise, ensure you do not lift anything above 10 pounds, or do exercises that involve abdominal movements. Most patients have to wear a compression; this garment accelerates the healing process. You can resume light exercises and other more intensive activities after six weeks following surgery. You will gradually become stronger and your surgeon will instruct you when to resume other intensive activities.
Panniculectomy VS. Tummy tuck
Many people confuse the two procedures, the panniculectomy vs. tummy tuck the confusion arises as both the procedures are carried on the same area of the anatomy, namely the abdomen. What separates the two is the goal of the surgery. A tummy tuck is mainly used to tighten the abdominal muscles and get rid of the extra fat, skin, and tissue, a panniculectomy on the other hand is performed to get rid of a pannus.
You may not be acquainted with the word, pannus. It is a large flap of skin that is left hanging over the abdomen, and lower part of the body such as the thighs and genitals. This is a condition often endured by women after undergoing significant weight loss from childbirth. This surgery involves a targeted approach in getting rid of loose, sagging skin and excess fat of the pannus. It can fix mobility problems and helps eliminate the uncomfortable rubbing and chafing which leads to further issues such as skin infection.
Resurrect the Abdominal Structure
Can a tummy tuck be considered medically necessary?
Abdominoplasty or tummy tuck works on repairing layers and restructuring the abdominal muscle structure which may have undergone further changes as it is loosened, split, or stretched. A tummy tuck can contour the body and help get a sleek and slender figure. Of course, a tummy tuck surgery is a more invasive procedure and provides a toned and trimmed appearance.
Is Health Insurance Available for Pannileculectomy?
A panniculectomy is a strictly functional procedure and not a cosmetic procedure and is covered by health insurance. A tummy tuck, on the other hand, is not covered by health insurance. It is important to contact a reputed clinic with good state-of-the-art facilities with experienced surgeons on board.